Tokyo Paralympics: Afghanistan athletes unable to attend Games because of unrest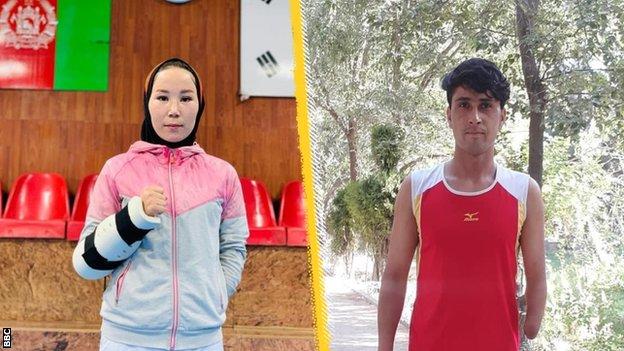 Afghanistan's two Paralympic athletes have been stopped from competing at the Tokyo Games because of unrest in the country.
Taekwondo competitor Zakia Khudadadi and track athlete Hossain Rasouli were due to arrive in Japan on Tuesday.
Khudadadi was set to become the second woman to represent Afghanistan at the Paralympics, which start on 24 August.
The Afghanistan Paralympic Committee's chef de mission Arian Sadiqi told BBC Sport it was "devastating".
Sadiqi, who is based in London, added: "Unfortunately the Taliban took over Kabul and everything went haywire.
"To be honest with you it is very hard. My heart is just shaking, I couldn't sleep last night.
"The whole situation became very chaotic very rapidly, so we had no choice but to opt out from the Games because there were no commercial flights in or out of Afghanistan except the military bases I believe."
Khudadadi, 23, had previously said she was "thrilled" by the prospect of being the first woman since Athens 2004 to compete at the Games for her country, while 24-year-old Rasouli said the chance to feature in Tokyo was a "dream".
"It's devastating. For me this was history in the making. We were going to make history," said Sadiqi.
"We wanted to use her as a role model for the rest of the female athletes, especially para-athletes, for the para movement in Afghanistan, to say if she is able to do it, you can do it as well, to encourage more participants.
"Unfortunately that doesn't happen and now we are 50 years, 20 years going back to square one, which is not good news at all for Paralympians. If you are a Paralympian and female, you have so many obstacles to overcome."
There have been scenes of panic at Kabul airport as residents try to flee following the seizure of the Afghan capital by the Taliban.
At least five people have reportedly been killed at the airport, with all flights now stopped.
Sadiqi said the team had tried to secure flights, but prices began to rise as the Taliban gained control of numerous cities.
"It's not going to be good news because it took 20 years for females to come out of their shells, to be empowered, to go to schools, universities, to go to work and be involved in physical activities and sport," said Sadiqi.
"Now I can only imagine their world has just been shattered once again. There is no hope from what I can see."