Tokyo Olympics medals table

1

Japan

13

4

5

22

2

China

12

6

9

27

3

United States of America

11

11

9

31

4

Russian Olympic Committee

7

10

6

23

5

Australia

6

1

9

16

6

Great Britain

5

6

5

16

7

South Korea

4

2

5

11

8

Germany

3

2

5

10

9

France

3

2

3

8

10

Netherlands

2

6

3

11

11

Canada

2

3

4

9

12

Hungary

2

1

2

5

13

Slovenia

2

1

1

4

14

Kosovo

2

0

0

2

15

Italy

1

6

8

15

16

Switzerland

1

3

2

6

17

Chinese Taipei

1

2

3

6

18

Brazil

1

2

2

5

19

Georgia

1

2

0

3

19

Romania

1

2

0

3

21

Serbia

1

1

2

4

22

Austria

1

1

1

3

23

Hong Kong

1

1

0

2

23

Tunisia

1

1

0

2

25

Croatia

1

0

1

2

25

Estonia

1

0

1

2

25

Uzbekistan

1

0

1

2

28

Bermuda

1

0

0

1

28

Ecuador

1

0

0

1

28

Fiji

1

0

0

1

28

Iran

1

0

0

1

28

Latvia

1

0

0

1

28

Norway

1

0

0

1

28

Philippines

1

0

0

1

28

Thailand

1

0

0

1

36

Spain

0

2

1

3

36

New Zealand

0

2

1

3

38

South Africa

0

2

0

2

39

Indonesia

0

1

2

3

39

Mongolia

0

1

2

3

41

Belgium

0

1

1

2

41

Czech Republic

0

1

1

2

43

Bulgaria

0

1

0

1

43

Colombia

0

1

0

1

43

Denmark

0

1

0

1

43

India

0

1

0

1

43

Jordan

0

1

0

1

43

North Macedonia

0

1

0

1

43

Poland

0

1

0

1

43

Turkmenistan

0

1

0

1

43

Venezuela

0

1

0

1

52

Kazakhstan

0

0

3

3

52

Ukraine

0

0

3

3

54

Egypt

0

0

2

2

54

Mexico

0

0

2

2

54

Turkey

0

0

2

2

57

Argentina

0

0

1

1

57

Côte d'Ivoire

0

0

1

1

57

Cuba

0

0

1

1

57

Ireland

0

0

1

1

57

Israel

0

0

1

1

57

Kuwait

0

0

1

1
A record breaking start to the Tokyo Olympics for Team GB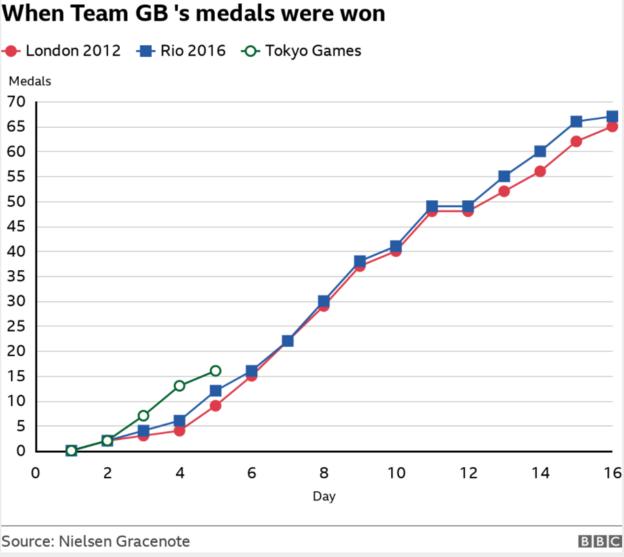 Simon Gleave, head of sports analysis, Nielsen Gracenote:
"After five days of Olympic competition in Tokyo, Great Britain has 16 medals including five golds. This beats the 11 medals won in the first five days of the Rio Games five years ago. At London 2012, nine medals were won on the first five days and the first golds arrived on day five."
"Only London 1908 has produced more medals in the first five days of medals being awarded – but those five days were spread across April, May and July when the Games had a totally different format".