Masters 2018: More patient Rory McIlroy sounds mentally prepared to win at Augusta National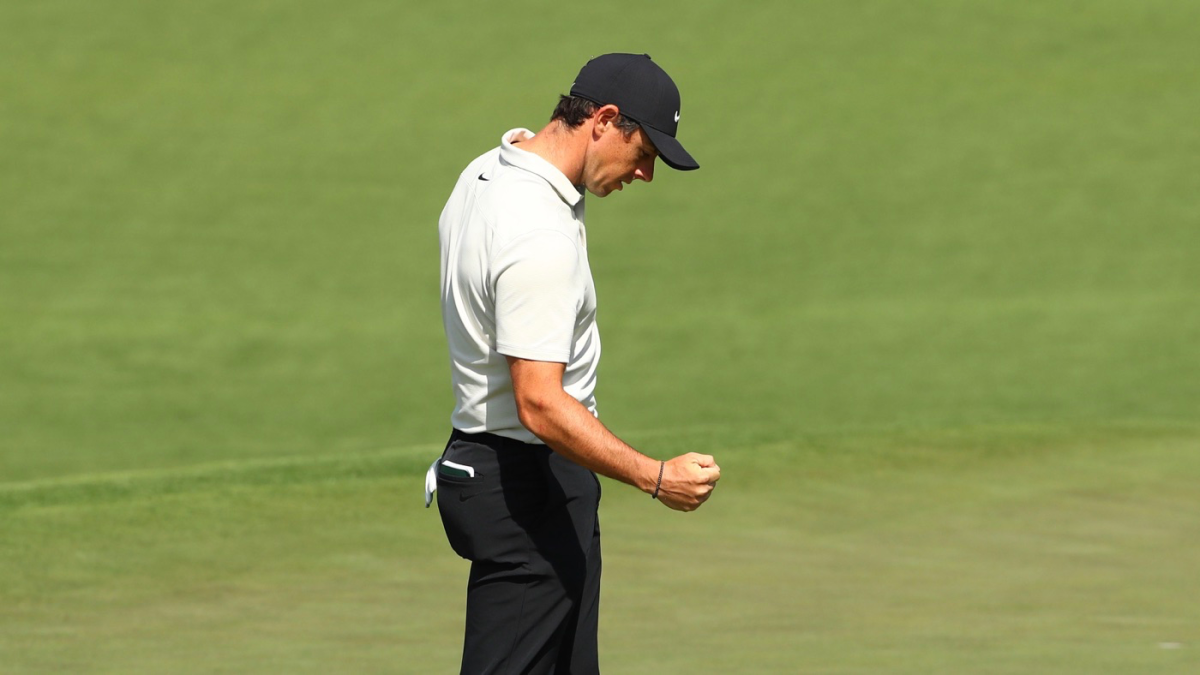 AUGUSTA, Ga. — Two holes into a second round at the Masters that he led by two after 18 holes, Jordan Spieth found himself looking up at Rory McIlroy who shared the lead at 4 under after birdies at Nos. 2 and 3. Life comes at you fast at Augusta National. McIlroy and Spieth know that better than anyone.
The Ulsterman went on to shoot a 1-over 37 on the first nine, but on a day when the ground baked and the scores swelled, McIlroy hung around — and hung around some more. Then he took advantage of a birdie opportunity at No. 13 and poured in a 27-foot birdie putt on No. 14 to get back to 4 under. He missed makable birdie putts on Nos. 17 and 18, but tapped in for easy pars and a 1-under 71 and a 4-under 140 total.
It ties his second best 36-hole score ever here.
The four-time major winner will most likely be inside the top five at the end of the day and primed for probably the best ever swing he's had at the career Grand Slam. He could have to battle either cold, windy, rainy conditions on Saturday or 36 holes of play on Sunday. So it won't be easy, but the way McIlroy has strung together the first 36 has been impressive.
He's battled tricky conditions and distance issues on a few holes and scored as well as anyone over the first two rounds. He's resisted the urge to try and make 10 shots on one swing — not exactly a career hallmark — and to follow him around Augusta is to watch a more patient, relaxed golfer than we've maybe seen in years past.
"Experience," said McIlroy when asked about what makes him more patient than before. "I think just with the amount of times that I've been in contention or around the lead … whether it be a regular PGA Tour event or a major or whatever it is. Every experience that you have in that arena in those situations, you learn a little bit from it each time.
"I don't have to go out there and make a birdie on every hole, especially not on this golf course. In these conditions, pars are okay. Sometimes pars might be a little bit boring, and you might feel as if you want to get a little bit more out of your round. But as you look up the leaderboard, and you're still there around the lead … that's taken awhile for me to adjust to.
"Whenever I first came out here on Tour, I thought all these guys birdied every hole and you just had to hit unbelievable shot after unbelievable shot and hold the putt afterwards. It's not quite like that. Golf is a game of making your misses not that bad and taking advantage of your good shots. So far this week, I've been able to do that."
McIlroy has played the par 5s in 5 under thus far, and his short game has been outrageous, too. His wedges have been crisp and on point, and his putting has been good enough (which is all it needs to be to for McIlroy to win another major).
Friday's physical conditions were nasty. Not the weather, per se, but the slippery greens and feels-hotter-than-it-is Georgia sun. But mentally, the conditions were even tougher. All year you hear about the scoring opportunities at Augusta and about how this is the place to make eagles and birdies. The roars! they say. There were none on Friday. There were just grinding, tough pars and a couple of birdie attempts on the par 5s. That's it.
That's precisely why what McIlroy did in the first two rounds was so impressive. With just 25 percent of the field under par at the time he finished, McIlroy assumed a role that at times has escaped him in the past. He was a mental powerhouse over the first 36 in two incredibly taxing rounds. He was patient in both the literal and figurative sense.
"It's just so tricky," McIlroy told Tom Rinaldi of ESPN. "The winds should basically be side-to-side west today, but every single hole you get on it's coming from a different direction. You really need to be aware what it's doing. I just wait until I feel the wind is where it should be, and then I hit my shot. It just swirls in these big, tall trees. If you get the wind right on every hole, you'll be ok."
Twice McIlroy has been in this position before, and those happened in quite different ways. In 2011, he led by two after going out with a 65-69 open. He was 21 years old. Everyone knows what happened after that.
"I place a lot of importance on what happened here in 2011," said McIlroy earlier this week. "I feel like it made me a better player, I feel like it made me a better person. It definitely was a character builder. I don't think I would have had the career I've had so far if it wasn't for that day. So I think it was very important."
In 2016, McIlroy was 3 under after 36 holes, one back of Jordan Spieth. The 2015 champ lit him up that Saturday in cold weather. Spieth went on to blow the Masters down the stretch, but he was in it until the end. McIlroy was not.
"I feel relaxed," said McIlroy on Friday about his mindset going into the weekend. "I feel good. "I'm constantly having a conversation with myself about staying in the present and just one shot at a time and all the cliche stuff that you hear about, but it's true. You know, that's all I'm doing. I'm trying to get up there and hit the best shot that I can, and after that, I'll go about what's the best way to hit the next shot and the putt.
"So it's very much been that way, which … I've been pleased with how I've felt and my thought process and where I am mentally, I've felt really good about that. I feel like I don't have to swing my best to play my best golf, but if I can think the way I'm thinking right now and stay in that mindset, that's when I've been able to produce my best results."
It's been interesting to watch a tough-as-nails McIlroy fight his way around this place. Sure, he still hits drives maybe better than anyone in history, and yes his iron play still makes the knees of grown men weak and wobbly. But it has been his mental fortitude that has propelled him into the weekend. It's also been unexpected. It's the mental thump of Thursday and Friday that often knocks him off kilter. Not this year, though. Even in conditions that haven't always meshed with his personality or his game.
Interestingly, McIlroy had as many Sundays in the 60s as he had Thursdays, Fridays and Saturdays combined at Augusta. We have seen him play freely on the weekend here. That's because you can let go a little bit on the weekend. Let it hang. That's when McIlroy is at his very best. His 68.0 scoring average is No. 2 on the PGA Tour this season. Now if he survives what could be a bitter Saturday, we could get a Sunday Rory that combines a much stronger mental tenacity than we've seen in years past with one of the more spectacular skillsets in modern golf history.
For a jacket. And the Slam.