2018 Masters: The Patrick Reed, Rory McIlroy showdown will captivate Augusta National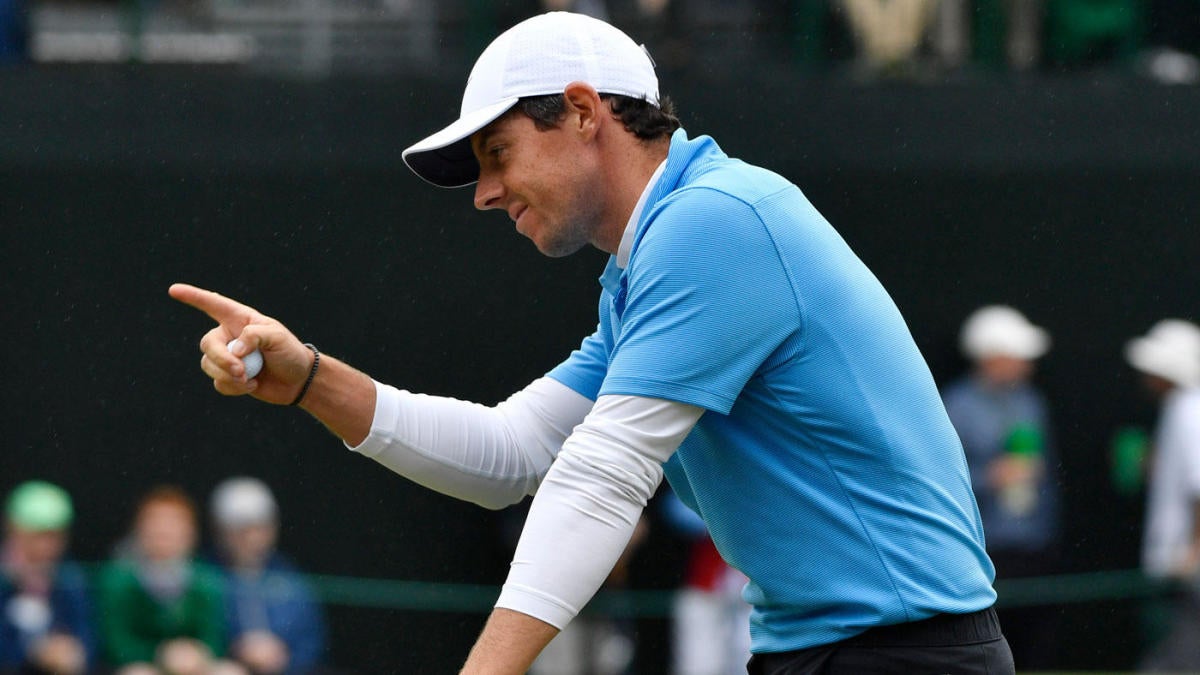 AUGUSTA, Ga. — Two of the most recognizable walks in the sport of golf will traipse to the first tee on Sunday with history splaying in every direction. Patrick Reed at 14 under will sidle up to the starter with his burly, lumbering gait ready for major championship victory No. 1. Rory McIlroy, at 11 under, will bounce and bob his way through the patrons en route to what he hopes will be the final leg of the career Grand Slam. Two alphas jousting for the most important prize in golf after a lusty Saturday in which we may have gotten more than we bargained for.
McIlroy teed off first in Round 3, and after a slow start, poured in healthy birdie putts at Nos. 3 and 4. After nearly taking down the stick at the par-3 6th for another bird, McIlroy started strutting so hard I was briefly worried his hip flexors couldn't handle the bend in his knees. He obliterated a drive 343 yards on the 7th and chipped in for eagle on the 8th, which elicited a mighty roar. Poof, Reed's five-shot advantage over the four-time major winner was gone as both sat at 9 under for the week.
After a par at the 9th, Rory walked to the 10th tee and stared down the big leaderboard over No. 18 out to his right. He read red, and its results pleased him. He and Reed were tied. As he teed his ball up on the 10th tee box, 27 holes from history, the menacing clouds opened slightly. For some, it might have seemed a curse. But for McIlroy, who has burned on thick, wet courses in the past, it seemed a delightful omen. It felt important, too. I'm not sure why, but the weather on Saturday at Augusta National felt like it does when Rory wins majors. I know that sounds like a completely insane thing to say, but everyone I walked with agreed.
However, Reed, who has never found much success on this golf course, doubled down on his first two days. Birdies at Nos. 8, 9 and 10, and the lead was his once again. McIlroy stalled and made a huge mistake on No. 13. He overcooked his approach into the easy par 5 and found himself wading through the azaleas. A dicey chip out and up and down saved par, but the Ulsterman teetered a bit.
Meanwhile, Reed revved up. Following a bogey at No. 12, he threw an over-his-head fist pump at No. 13 after an eagle. McIlroy needed something coming home, and he knew it. Then he got it. An up-and-down birdie from 94 yards at No. 15 got him to 10 under and at least gave Reed something to think about. If he considered it a charge, he didn't show it. Reed chipped in for another eagle on No. 15 before giving one back on No. 16. McIlroy desperately needed a close, which he got with a birdie for 65 on No. 18, punctuated with a right jab. Reed's lead was just three going into Sunday.
The birdie also guaranteed him the final tee time of the 2018 Masters with Reed. After their Ryder Cup heat-seeker two years ago, I have to think they're both a little giddy about that. And if Saturday's flow was a preview of what we're getting on Sunday, then I'm not sure we're prepared for what we're getting on Sunday.
For the entirety of their press conferences in the aftermath, both golfers insisted that the end of this tournament is about playing the course and that the rest of the field is still in the mix. It's true that Rickie Fowler is five back, Jon Rahm is six back and Henrik Stenson is seven back. But what McIlroy did right after his round ended revealed his true feelings. He knows that ultimately he will only have to figure out how to get around Reed if he wants the Slam, and he fired a psychological flare to see if it would take.
"I'm really excited to go out there tomorrow, show everyone what I've got, show Patrick Reed what I've got," McIlroy said on CBS. "You know, all the pressure is on him tomorrow. He went to Augusta State, he's got a lot of support here, and I'm hoping to come in here and spoil the party."
This is not Rory's first rodeo. He understands that if he can wedge his way inside Reed's head at any point on Sunday, he can pull the curtains on what has been a spectacular show from a United States Ryder Cup hero. Following a popped-collar-wearing, bogey-free 65, he took the very first microphone he saw and set the tone for Sunday. That might be just as important as what McIlroy does on the course on Sunday.
Both went on to insist later that Sunday is not a heads-up match. But it is. And with it comes the most picturesque backdrop in all of sports. At some point we're going to stop getting outrageously good storylines to punctuate majors and team events. Sunday will not be that day.
"There's a lot of stuff that you can do at Ryder Cup that you can't do at Augusta National," Reed said of the difference in Sunday's festivities from their bout at Hazeltine in 2016. "It's going to be electrifying. The fans are going to be ready to go, they are going to be ready to cheer for whoever is making putts, whoever is making birdies or pulling off shots."
McIlroy, who is second on the PGA Tour in final round scoring average this season, has obviously been here before, sort of. He took a four-stroke lead into the 2011 Masters final round and shot a 43 on the second nine. He hasn't been back into the arena at this event in a real, meaningful way since that day.
"I've been waiting for this chance, to be honest," said McIlroy. "I always have said that, you know, 2011 was a huge turning point in my career. It was the day that I realized I wasn't ready to win major championships, and I needed to reflect on that and realize what I needed to do differently. But now I am ready. I learned a lot from it. I'm happy to be in the final group."
If there is anything Reed loves more than hunting for monster trophies, it's keeping a hungry opponent from feasting. McIlroy craves the Grand Slam as much as anyone in golf craves anything, and nobody would rather beat him and keep him from putting his hands through some green cuffs than Reed. He revels in this. It is one of his great qualities as an athlete and is probably one of the myriad reasons he's so elite in Ryder Cups.
So in that sense, it's good for him that he gets McIlroy. But I'm not sure he understands what's in store over that final nine. McIlroy knows. He's been there, done that. Even at this course, though it went poorly. Reed has pounded in Ryder Cups, but there's always a fallback plan there. Out here, you're all alone. It's the apex of independence. He claimed to be pressure-proof on Saturday, though.
"I mean, I woke up this morning, felt fine," said Reed. "Didn't feel any pressure. Just came out and tried to play some golf. And I believe that's how it's going to be tomorrow. Wake up and just come out and play golf and whatever happens, happens. I'm not going to be there focusing on Rory or really focusing on any of those guys. I'm just going to go out and try to play the golf course and try to play some good golf."
Time will tell if that's a good strategy.
"I feel like all aspects of my game are in really good shape, and I'm much more relaxed," countered Rory. "This isn't my first time in this position now. I've been able to close the deal a few times before this, and I have that to fall back on tomorrow. I've got a lot of experience in these positions and experience that I've learned from, good and bad. I feel like all of those experiences will help me tomorrow."
I don't want to get too deep in the press conference body language-reading game, but McIlroy spoke as if he meant this on Saturday night. Reed spoke as if that's what he was supposed to say. Reed doesn't lack for confidence of course, but nobody, including Reed, knows how wild eyed he'll get in the fire at 5 p.m. on Sunday. Nobody.
So we know both are playing great golf. And we know both are having great seasons. Mostly, we know that both of these guys are alphas, the first guys out at a Ryder Cup. But who will be the omega? That's the question. Who will stand last on Sunday evening in front of Sergio Garcia and wear green? Who will become the 52nd human being to win the Masters Tournament?
Whatever happens, with these two, you know they'll put on a show.
"I think we'll obviously still be feeling it," said McIlroy. "It's the last round of a major championship, and … Patrick is going for his first and I'm going for … something else. It's going to be good fun"
Yes it is. As McIlroy cleaned up his birdie on No. 15 on Saturday and marched closer and closer to history, his father Gerry stood next to us in the gallery. When the putt fell, patrons went bonkers as they'll surely do again on Sunday if more putts are falling. Gerry didn't clap. He didn't roar. He side-eye grinned nobody in particular. It was marvelous. A father drinking in unparalleled success for his only son. A look that said, "There are only so many great shots at a jacket, and this is one of the few."
Now we get yet another final round at Augusta National with a Slam on the line. Both men who stride to the first tee on Sunday afternoon can try and convince us that this isn't about a Rory-Reed redux. That somebody else can win it. That it's all wide open. That crazy things happen at this place. That Sunday leaderboards can change in a hurry.
Don't believe them, though. We all know what we're getting on Sunday afternoon. One of the modern day greats against an all-time heads-up golfer who will do anything short of a felony to keep him from his destiny. Rory will sleep on the Slam. Reed will sleep on a down comforter made of bald eagle feathers.
Get me through the first nine on Sunday. The final two hours are going to rock.